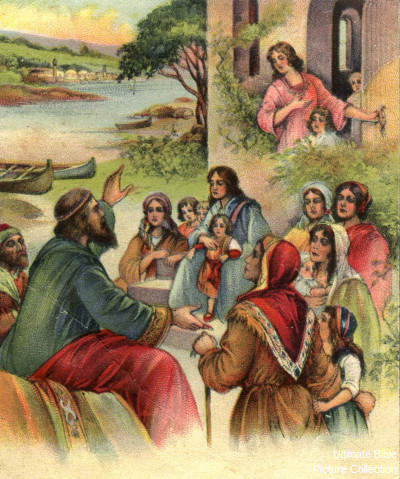 In my last post I shared another instance where God's servants were imprisoned for teaching God's truths, and God sent an angel to miraculously free them. Once again, the 'brethren' had been together in one accord, praying fervently for Paul and Silas. This time, they were together in the home of a woman named Lydia.
Acts 16:40 "And they went out of the prison, and entered into the house of Lydia: and when they had seen the brethren, they comforted them, and departed."
Lydia came from Thyatira, a city in the western province of Lydia in Asia Minor. Her name originally might have been the designation of her home, "a woman of Lydia." At the time Lydia met Paul, she lived at Philippi, a leading city of Macedonia on the European continent.  As a wealthy and influential businesswoman, Lydia sold articles dyed purple, a prized color made from certain mollusks–a respectable and lucrative trade. She had a spacious home that could accommodate many guests and servants to meet their needs. This had to be a rare achievement in her day. I would say that she was indeed a hard-working, bold, and intelligent woman to have achieved the success that she enjoyed. She also was a true child of God who understood that everything she had was a blessing from the Lord, to be used for His glory.
One Sabbath day, Lydia went to the river's shore that had been designated by the Roman authorities of Philippi as a place of prayer and worship for the Jews. There she met Paul and Silas, who had been in Philippi only a short time. While others along the river may have rejected Paul's words about Jesus, Lydia accepted them and became a Believer. Once she believed, she made a confession of her faith to her whole world through baptism and then, she assembled her entire household, told them what had happened to her, and she asked them to believe. After her entire household accepted Christ as Saviour and were baptized, Lydia invited Paul and Silas to stay in her home. When Paul and Silas were thrown into a Philippian prison, Lydia visited them and attended to their needs. Her house became the meeting place of the first European church.
Lydia was quick to understand that what had been hers before her conversion–home, business, and possessions–now belonged to the Lord. She had a new partner, the Lord Jesus; a new purpose, to serve Him; and a new satisfaction in seeking to be effective and successful in order to glorify the Lord. Her career aspirations did not hinder her sharing the gospel with family and friends. She was not too busy to take time for hospitality – Acts 16:15 "And when she was baptized, and her household, she besought us, saying, If ye have judged me to be faithful to the Lord, come into my house, and abide there. And she constrained us."
Lydia's name appears in Scripture only twice. She was seemingly the first Gentile convert in Europe, the first Christian businesswoman, and the first Believer to open her home as a worship center for European Christians. Not only to Paul and the early church, but also to the generations to come, Lydia proved the importance and influence of a woman of determination, foresight, and generosity.
What a wonderful, Godly example! Oh, how we could use more like Lydia in our world today!