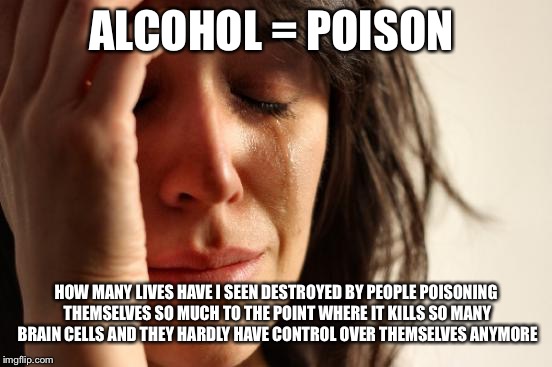 Proverbs 23:29-32 "Who hath woe? who hath sorrow? who hath contentions? who hath babbling? who hath wounds without cause? who hath redness of eyes? They that tarry long at the wine; they that go to seek mixed wine. Look not thou upon the wine when it is red, (don't even look at it) when it giveth his colour in the cup, when it moveth itself aright. At the last it biteth like a serpent, and stingeth like an adder."
When I was much younger, it was difficult for me to take much time in the Book of Proverbs. I think we all know why. It is all purely common sense that God shares with us about anything and everything we could think of to get ourselves into in this world. I used to be deceived about the use of wine/alcohol in my own life. I used to believe the phrase, "Everything in moderation." After spending much time with my Lord and His Word, I do not see God condoning us to put any type of alcohol nor anything harmful into our bodies. He tells us that our bodies are His temple if we are saved, His Holy Spirit dwells in us. What we do to ourselves we do to the Holy Spirit. And the effects of alcohol definitely quench/numb the Holy Spirit in us. Therefore, we make horrible fleshly decisions while under it's effect. God's Word tell us to be filled with the Holy Spirit. Even one drop of alcohol grieves our Holy Spirit. Sigh, why must some of us choose to go our own way, which means we learn lessons the hard way, and only see the truth when we are aged?
To begin my thoughts on this subject, I want to first point out that the word wine in the Bible is not always referring to fermented alcohol, it is referring to the fruit of the vine, grape juice. A study of the Greek words used in context with the Scripture tells us that for the most part, it is speaking of grape juice. And we need to understand that they had wells as their source for water in most parts then, and it was terrible for their stomachs. Research has shown that there is an enzyme in grape juice that is very good for the stomach's digestive system. Some use it for an excuse to drink wine, but we do not have to have the wine to get it, it is in the grape juice. So be aware that wine in the Bible is not always referring to the wine when it is red.
Oh, and here is something else I used to use to condone drinking, "Jesus turned the water into wine at the wedding in Cana. So it must be okay." The first thing I learned about that being false is that in Proverbs 20:1 God tells us exactly what He thinks about us drinking wine, "Wine is a mocker, strong drink is raging: and whosoever is deceived thereby is not wise." So we see that He is giving us the free will to drink alcohol, but He is not telling us that He condones it. He is actually telling us how it will affect us, and that we are indeed fools/not wise if we choose to imbibe in it and thereby be deceived. We will face the consequences. I have seen too much harm to loved ones and family from the use of alcohol.
God also says in Proverbs 23:31 "Look not thou upon the wine when it is red, when it giveth his colour in the cup, when it moveth itself aright." Of course we know He is speaking of fermented alcohol here.
Now you are reading me saying that "God has said" because God did indeed write His Word, okay? So why would He tell us in one instance why we ought not do something and then send His perfect and Holy only begotten Son to make the substance He told us to not even look upon, and serve it to people? God does not contradict Himself! Neither would He say, "Here ya go, drink this fermented wine."
Something else God has revealed to me in this Scripture is that the celebration had been going on for some time and they ran out of wine, and at that point many of them were quite drunk. Do we really believe that Jesus would really make more alcohol for them to drink and become more drunk on?! At one point in my life, I worked in a bar and when some had too much to drink, we had to shut them off, for their own safety and for the safety of others. If we as humans have that rule, do we really believe Jesus is going to make and give them more alcohol to drink? See, common sense!
So what it all boils down to is this, we all have free will and God lets us learn things the hard way, if we choose to do so. We do not have to wait for Him to speak to us each individually whether He wants us to do something or not. He has laid it all out in His Word for us to know. And once we know the truth, the best choice we can make, if we truly love and want to obey God is to accept and surrender to His will and not our own.
Some who are too involved in the things of this world mock me for these kinds of beliefs. That's okay. If you truly seek the truth, He will show you too. It matters not to me what others think. I do not look down on you, as I was once where you are. That is between you and the Lord. I am not responsible for anyone else, only myself and my own walk with my Lord. I will end with this Scripture:
Galatians 1:10 "For do I now persuade men, or God? or do I seek to please men? for if I yet pleased men, I should not be the servant of Christ."